The Science Behind Huggies® Newborn Nappies
We know baby's skin is delicate, especially during the early stages of development. That's why Huggies® Newborn Nappies are designed to deliver gentle protection for babies. Every component of the nappy is designed thoughtfully to help keep babies' skin clean and healthy.
In the nappy area, prolonged exposure to irritants in poop, excessive moisture, and friction are the main contributors to irritation.
Understanding the main causes of irritation and the unique needs of babies' skin informs the design of our nappies, ensuring that our nappies are gentle and safe to use.
Huggies Newborn Nappies are designed with baby's skin health in mind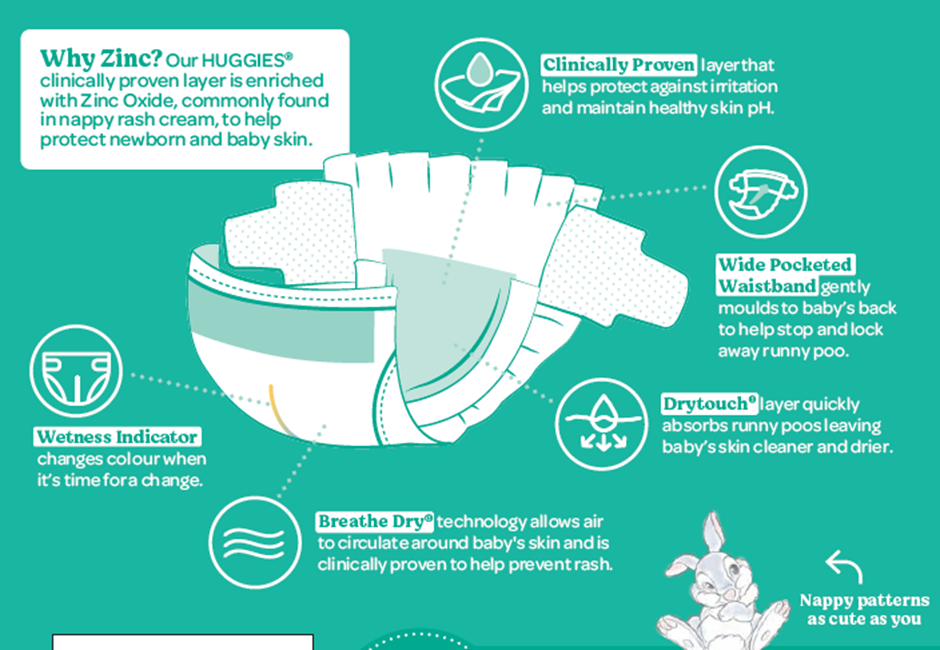 Helps protect against irritants & maintain healthy skin pH

Zinc- Enriched layer

Huggies® Newborn Nappies' clinically proven layer* has a skin protecting application comprising of zinc oxide, commonly found in nappy rash creams, and a pH balancer.
This Zinc-enriched layer works to help deliver protection against irritants from urine and poop that can alter pH.
Huggies® Zinc-enriched layer is clinically proven to help protect against irritation and maintain healthy skin pH*

Promote breathability so that baby's skin is comfortable

Breathable Outer Cover

Huggies® Nappies are constructed with a thin, breathable outer cover film specially designed to help protect baby and allow air to circulate, helping to keep baby's skin dry and comfortable
This material is engineered to have microscopic pores to allow air to flow through the outer cover while keeping fluids, like urine and poop, from passing through due to the microscopic pore size

Helping keep skin dry & comfy

Drytouch® layer:

Newborn babies have unique needs and that is why the Drytouch® layer is designed to pull both urine and poop away from skin
This material provides a layer of comfort via an enhanced softness experience with a pillow-like texture
The Drytouch® layer is designed to absorb urine and runny poop that contains irritants and draws them gently away from baby's skin

Absorbent Core:

A key component of healthy skin is to keep it dry. Huggies® Nappies are designed to do just that! Superabsorbent material and fluff are combined inside the Nappy to draw urine and poop away from the skin and lock it away in the core of the diaper

Wetness Indicator:

Huggies® Nappies feature a wetness indicator that will react to small volumes of fluid and is designed to be visible in low light conditions, letting you know when it is time to change the diaper
When wet, the line that is visible on the outside of the Nappy will change from a light-yellow colour to a blue/green colour
Changing the Nappy after baby pees will help keep skin clean, dry, and healthy

Pocketed Back Waistband:

Huggies® Newborn Nappies have a soft back waistband that is designed to gently conform to the baby and help to prevent poop from escaping the back waistband of the diaper
The central region of the waistband is not adhered to the body side liner so that it creates a pocket that captures poop and provides a barrier between skin and the mess in this portion of the diaper
Gently contact skin with soft materials

For every Newborn Nappy that we make, the product design and materials have been carefully selected to be safe, soft, and gentle on a baby's delicate skin.

Outer cover: Covers the breathable barrier film to provide a soft touch to the product
Shaped design: The absorbent core and overall nappy design are shaped to gently curve around baby's legs and body to provide a comfortable fit
Containment flaps: These are located on the inside of the product to prevent urine from leaking out of the product by providing a gentle gasket around baby's legs
Waistband: Besides helping to keep poop inside the Nappy and providing a comfortable fit, this material also gently contacts baby's skin
Safe for delicate skin

All Huggies® Nappies have undergone a full product assessment to ensure they are gentle and safe for baby's delicate skin
No added Fragrance, paraben, elemental chlorine & lotion

All Huggies® Nappies do not have fragrances, parabens, elemental chlorine, or lotions added to the product or materials during manufacture
---
Andy Hammond, B.S. Packaging
Chloe Jacobsen, B.S. Chemical Engineering
*This claim is based on a clinical study conducted at an independent laboratory, using adult skin as a suitable substitute for baby skin. Results showed significantly less irritation when using liner with Huggies® Zinc Enriched layer vs control.
Contains Zinc as Zinc Oxide, commonly found in nappy rash cream.
Last Published* July, 2023
*Please note that the published date may not be the same as the date that the content was created and that information above may have changed since.